Flo THERM Anhydrite Liquid Screed

Flo THERM Liquid Screed is a specially formulated calcium sulphate self levelling (flowing) floor screed. A high quality flowing screed can be produced simply by mixing with water, either on site or at a ready mix plant.

Flowing screeds have many obvious benefits over traditional sand and cement screed: quicker to lay; thinner screed depth; less labour intensive; much lower risk of shrinkage or cracking but the main benefits are seen when they are used with underfloor heating systems. Flowing anhydrite screeds fully encapsulate the heating pipes without voids and need only to cover the pipes by 25mm, resulting in a much more responsive heating system which in turn is more economical to run.

Benefits:

Reduced screed thickness
Maximizes underfloor heating. BS EN 13813 CA – C30 –F6
Can be walked on in 24-48hrs
does not require curing
suitable for floating floor construction
ideal with underfloor heating enabling rapidcommissioning of the underfloor heating
excellent thermal conductivity
Dries at rate of 1mm per day up to 40mm and 2days per mm after that.
self compacting
no reinforcement needed
can be force dried as early as 7days after installation







Directions:
Preparation
The building must be weather tight prior to the placing of any screed material: the roof; external doors and windows must be in place and closed or covered and taped to prevent draughts. All substrates must be suitable to receive the screed as per current good working practices.
All substrates for bonded constructions should be clean and thoroughly sound; they should be free from standing water, oils, grease, dust, loose particles or any other contaminants which may interfere with adhesion. For floating (or unbonded) and underfloor heating constructions, it is imperative that the highest quality preparation is carried out. All insulation boards should be installed in such a way as to provide a clean even base. A suitable (500µm) polythene sheet should be applied over the insulation. All joints should be lapped to 100mm and fully taped. A suitable 5-10mm PE foam expansion strip should be fitted to the full depth of screed around the entire perimeter of the floor. Corners and joints should be constructed neatly and taped to form a watertight seal. All openings should be suitably sealed to prevent screed material escaping. Heating pipes should be laid as required and mechanically fixed every 300mm. It is recommend to also fill pipes with water to prevent lifting. Isolation strips should be placed in door thresholds where there is likely to be a difference in operating temperature in underfloor heating circuits.
It is recommended to leave designated areas without underfloor heating pipes and clearly mark their location to allow the easy sampling for CM moisture readings without risk of damage to the heating system.
Application
The screed can be mixed at site from a silo; with a suitable mixer pump; or at a ready mix plant and delivered by mixer truck. Generally a 6m3 truck can carry 5m3 of screed without the risk of spilling. The screed should be pumped into place using a suitable pump. The pump hoses should be first primed/lubricated with a slurry of binder and water.
The level should be set with tripod markers and a suitable laser level or water level before pumping commences. After placing, the screed should be lightly tamped with Tbars or similar to ensure full compaction. The screed should be protected from draughts during installation and for the first 3 days. The screed should be dry (less than 0.5% moisture content measured by CM) before covering. This can be accelerated by the use of dehumidifiers or by commissioning of the heating system after 7 days. Depending on the mix design, application and requirements of the floor covering it may be necessary to remove surface laitance. This can usually be accomplished by brushing with a stiff brush but may require the use of a floor buffer fitted with a suitable grinding disk. The removal of laitance is normally carried out after 7 days depending on site conditions.
Underfloor Heating
Underfloor heating systems should be commissioned with a gradual build up in temperature in line with BS EN 1264 recommendations
A typical routine would be:
Raise flow water temperature to 25oC
Maintain this temperature for 3 days.
Raise thermostat temperature by 5oC per day.
Raise to maximum flow water temperature (<50oC)
After testing continue to run heating system for 2 weeks
Switch off system 48 hours before checking moisture or installing floor coverings.
Always follow the guidance supplied by the heating system manufacturer
Moisture Content
The screed should be dry before covering.
This is more important with gypsum based screeds that traditional cement based screeds as trapped moisture can have a detrimental effect on the strength and durability of a gypsum screed.
We recommend the screed is checked for moisture using Carbide Bomb type moisture meter. Electrical meters (two pin type) are not suitable.
| | |
| --- | --- |
| Covering | Maximum Moisture Content |
| Carpet and permeable coverings | 1.0% |
| Vinyl and impermeable coverings | 0.5% |
| Cement based materials e.g. tile adhesive (requires priming) | 0.5% |
We do not generally recommend the use of a surface applied DPM with Egan Screeding floTherm Screeds.
If there are technical issues regarding drying times, consult our technical Department regarding the use of Egan Screeding Seri-Dec tanking and decoupling membrane.
Laitance
Generally Egan Screeding floTherm screeds do not require the removal of any surface layer or laitance.
However, depending on the mix design, application and requirements of the floor covering it may be necessary to prepare the surface before installing some floor coverings. This can usually be accomplished by brushing with a stiff brush but may require the use of a floor buffer fitted with a suitable grinding disk.
The removal of laitance is normally carried out after 3 days depending on site conditions.
Floor Covering

Due to the incompatibility between gypsum based materials and cement based, it is imperative that the screed is sealed with a suitable primer prior to the installation of cement based adhesives of leveling compounds.
We recommend that this is carried out be priming the surface with Egan Screeding Acrylic Primer in two coats. First coat is applied diluted 1:1 with clean water and the second coat is applied neat. For best results apply with a short pile paint roller and do not apply in thick coats or allow to pond. Alternatively a suitable water based epoxy primer may be used.
Restrictions

Always isolate gypsum based materials from cement based materials when mixing. A relatively small amount of gypsum contamination in cement based mixes can cause deleterious expansive reactions. Gypsum based screeds are not suitable for use externally or in areas of permanent dampness. Gypsum based screeds must be suitably primed prior to the application of subsequent cementitious materials, e.g. tile adhesives. Contact our technical department for further advice.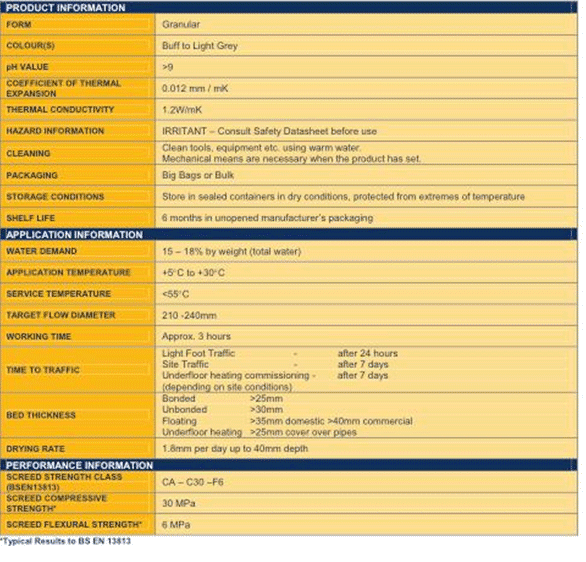 Handling Precaution:
Egan Screeding products are generally safe provided they are used as instructed and that certain precautions normally taken when handling chemicals are observed eg. Do not allow any material come into contact with foodstuffs. Avoid contact with skin. Do not swallow. Always read the safety information on the pack and the Safety Data Sheet before use.
Important Note:
The information given in this data sheet is based on both current development work and many years' field experience. Whilst every effort is made to ensure that the information is reliable we cannot accept responsibility for any work carried out with out materials where we have no control over methods of application, site conditions etc